FERRY SERVICE FACING CHALLENGES DUE TO GAMBIA SENEGAMBIA BRIDGE
Ferry service losing revenue due to Senegambia Bridge commission in Gambia
The commissioning of Senegambia Bridge in Gambia pose a ferry challenge according to Deputy Managing Director of the Gambia Ferry Services, Hall Abdoulie Gai. The ferries over the last couple of years has made great stride but has been hinder by the bridge commission.
Ferry crossing has been in operation for over 80 years. But the major problem with the bridge commission according to Gai has immensely affected the revenue gains of the ferries. This is after investing heavily in terms of building the landing bridge, halls, offices and many infrastructure on both sides of the banks for the ferries.
Deputy Managing Director of the Gambia Ferry Services, Hall Abdoulie Gai said "When the new bridge commenced operations, the ferries at this crossing point started to lose revenue up to now."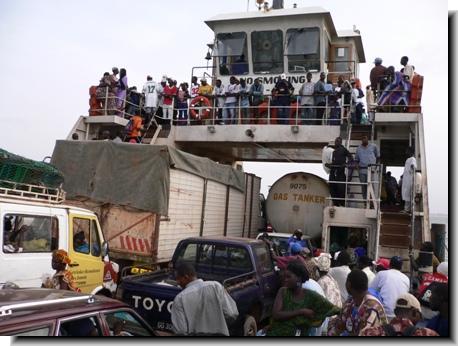 IMPORTANCE OF THE FERRIES?
Ferry is one of the Gambia capital's vital economic lifelines and an essential river crossing to Dakar (Senegal) the north especially the Banjul to Barra Ferry Service. It has been important especially to students as most of them don't pay while on it.  Mariama Fatty a student at Gambia Senior Secondary School who lives in Barra, said students in uniform are allowed to cross without paying fares; that this is significant because most of them come from humble backgrounds.
WHICH IS MORE IMPORTANT,  BRIDGES OR FERRIES?
Ferry crossing has been in existence but should the government ignore a more effective means of generating revenue. We all know that bridge is vital to any infrastructural developing nation. Gambia Ferry Services should ask the government to create a plan for generate more revenue instead of downplaying the importance of the bridge.
In my opinion, the Bridge is far available compare to the ferry. As it is a vital economic and strategic link that connect the north and south banks of the Gambia River as well as The Gambia, Senegal and other countries in the sub-region. Gambia Ferry Services should look at ways of generating more revenue instead of blaming Senegambia Bridge
Click on the floating icon on the right to subscribe. More so, please share, Follow us on Twitter and don't forget to also like us on Facebook. Read More on Gambia